Mara Martin Bought A New Fashion To The Ramp By Breastfeeding Her 5-Month Old Baby Girl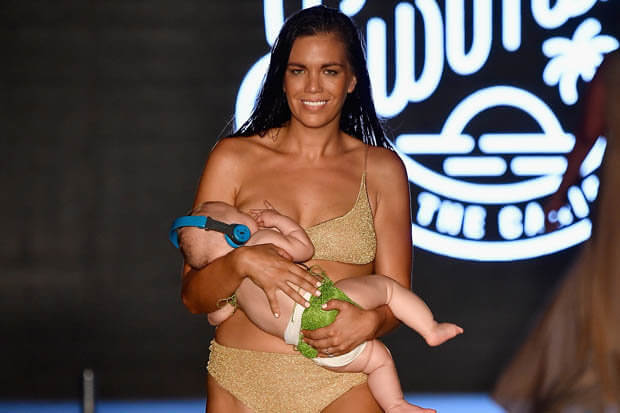 It is not a new thing for the ramp models to bring something different to the table. However, the bold action of Mara Martin in the recent Miami Fashion Week captivated a lot many eyeballs. While the bikini babes continued to put the runway on fire, Mara Martin took the crowd by surprise with her breastfeeding act. The sports model was found to be boldly flaunting her gold bikini along with breastfeeding her small daughter who looked adorable wearing a headphone to control excessive noise and disturbance. The model looked comfortable and confident as ever walking on the runway for her dream brand.
The bold move of the Martin received mixed reactions with some applauding her and the others marking the act as disgusting and shameful. After the ramp walk, some people took it to twitter and described the act as disgraceful and inappropriate. They opposed the model for using her daughter for gaining publicity. On the contrary, the act also attracted several supporters who called Martin an inspiration for the breastfeeding mothers. Some of the fans congratulated the sports model for portraying a perfect image of a multitasking mother.
It is believed that the model chose the theme to spread a positive message and normalize breastfeeding act. After being applauded for her act, Mara expressed her gratitude for all the love and support that she received from the people. She also encouraged other women with a message that all of them have the power to take such bold moves and normalize breastfeeding. Mara was among those 16 women who were awarded at the Sports catwalk. This ramp show was organized with a mission to bring greater variety and inclusions to the world of fashion.