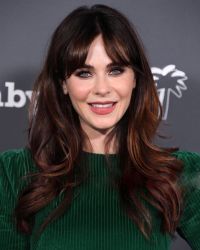 Zooey Deschanel
American actress
Full Name
:
Zooey Claire Deschanel
Birth
:
January 17, 1980 (43 years) , Los Angeles, California
Profession
:
American actress
Net Worth
:
$25 million approx.
Zooey Deschanel, an actress and singer renowned for her offbeat charm and unique screen presence, has left an indelible mark on the world of entertainment. With her distinctive blue eyes and vintage-inspired style, Deschanel has captivated audiences with her performances in both movies and television. Beyond her acting prowess, she has also made a name for herself as a talented singer and songwriter.
Early Life and Family Background
Born on January 17, 1980, in Los Angeles, California, Zooey Claire Deschanel was destined for a life in the limelight. She hails from a creative family; her father, Caleb Deschanel, is a respected cinematographer, while her mother, Mary Jo Deschanel, is an actress. This familial connection to the world of entertainment undoubtedly influenced Zooey's career path. Her older sister, Emily Deschanel, is also a well-known actress, best recognized for her role in the popular TV series "Bones."
Emergence in the Entertainment Industry
Deschanel's breakthrough moment arrived in 2003 when she starred opposite Bill Murray in the quirky comedy-drama "Lost in Translation," directed by Sofia Coppola. Her portrayal of the bubbly and eccentric newlywed, Charlotte, earned her critical acclaim and a reputation for playing endearing and relatable characters. This performance catapulted her into the spotlight and paved the way for her subsequent success.
Memorable Movies
Zooey Deschanel's filmography boasts an array of notable roles that showcase her versatility and undeniable charm. Her role as Summer Finn in the romantic comedy "500 Days of Summer" (2009) solidified her status as a beloved leading lady. The film's exploration of love and relationships resonated with audiences, and Deschanel's chemistry with co-star Joseph Gordon-Levitt was central to its success. In the family classic "Elf" (2003), she starred alongside Will Ferrell, delighting audiences as the endearing Jovie.
Television Triumphs
Deschanel's foray into television was equally successful. She is perhaps best known for her role as Jessica Day in the hit series "New Girl," which aired from 2011 to 2018. Her portrayal of the quirky and lovable schoolteacher navigating the ups and downs of adulthood earned her critical acclaim, including several award nominations. Deschanel's comedic timing and innate ability to infuse her characters with authenticity endeared her to fans worldwide.
Musical Pursuits
Beyond her acting career, Zooey Deschanel is a talented musician with a passion for singing and songwriting. She is one-half of the folk duo She & Him, which she formed with singer-songwriter M. Ward. The duo has released several albums, featuring Deschanel's soothing vocals and introspective lyrics. Her musical endeavors highlight her creative depth and her ability to connect with audiences on a personal level.
Family and Personal Life
Zooey Deschanel's personal life has been characterized by a blend of creativity and family values. In 2010, she married musician Ben Gibbard, the lead vocalist of the band Death Cab for Cutie. However, the couple later divorced in 2012. Deschanel is a mother of two children, maintaining a balance between her thriving career and her responsibilities as a parent.
Show More