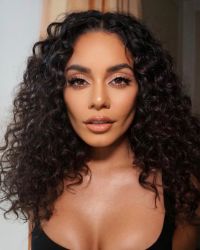 Source: instagram/vanessahudgens
Vanessa Hudgens
American actress
Full Name
:
Vanessa Anne Hudgens
Birth
:
December 14, 1988 (34 years) , Salinas, California
Profession
:
American actress
Net Worth
:
$18 million approx.
Vanessa Anne Hudgens, born on December 14, 1988, in Salinas, California, is a multi-talented American actress and singer who rose to prominence with her breakthrough role in the Disney Channel's wildly successful "High School Musical" franchise. Her career trajectory, family values, diverse filmography, and notable television appearances have all contributed to her status as a beloved and respected figure in the entertainment industry.
Early Life and Family
Vanessa Hudgens was raised in a close-knit family alongside her younger sister, Stella Hudgens. Her parents, Gina Guangco and Gregory Hudgens, instilled strong values of support and creativity from an early age. Despite facing financial hardships at times, Hudgens' family remained her pillar of strength and encouragement as she embarked on her journey in showbiz.
Rise to Fame
Hudgens catapulted to fame in 2006 with her role as Gabriella Montez in "High School Musical." The movie's unexpected success propelled her into the spotlight, making her an overnight sensation among young audiences. Her chemistry with co-star and real-life boyfriend at the time, Zac Efron, further fueled her popularity.
Diverse Filmography
Beyond her iconic Disney debut, Hudgens demonstrated her versatility by taking on a range of roles in both film and television. She ventured into drama with "Bandslam" (2009) and "Beastly" (2011), showcasing her ability to tackle complex characters. She broke away from her sweet image in "Spring Breakers" (2012), where she played a provocative role that challenged audience perceptions.
Television Appearances
Hudgens expanded her reach to television, showcasing her talent in various roles. Notable among these was her portrayal of Emily Locke in the sitcom "Powerless" (2017), adding a comedic dimension to her acting repertoire. She also stunned audiences with her standout performance as Maureen Johnson in the televised production of "Rent: Live" (2019).
Musical Pursuits
In addition to her acting prowess, Hudgens is also an accomplished singer. She released two studio albums, "V" (2006) and "Identified" (2008), both of which featured her distinctive pop sound. Her contributions to the "High School Musical" soundtracks cemented her status as a dual-threat entertainer.
Personal and Philanthropic Endeavors
Vanessa Hudgens has weathered personal challenges with grace, including the loss of her father to cancer in 2016. Despite her own struggles, she remains committed to giving back. She has been involved in numerous charitable endeavors, supporting causes such as Stand Up to Cancer and UNICEF.
Show More