Margot Robbie's Barbie-Inspired Fashion Tour in Seoul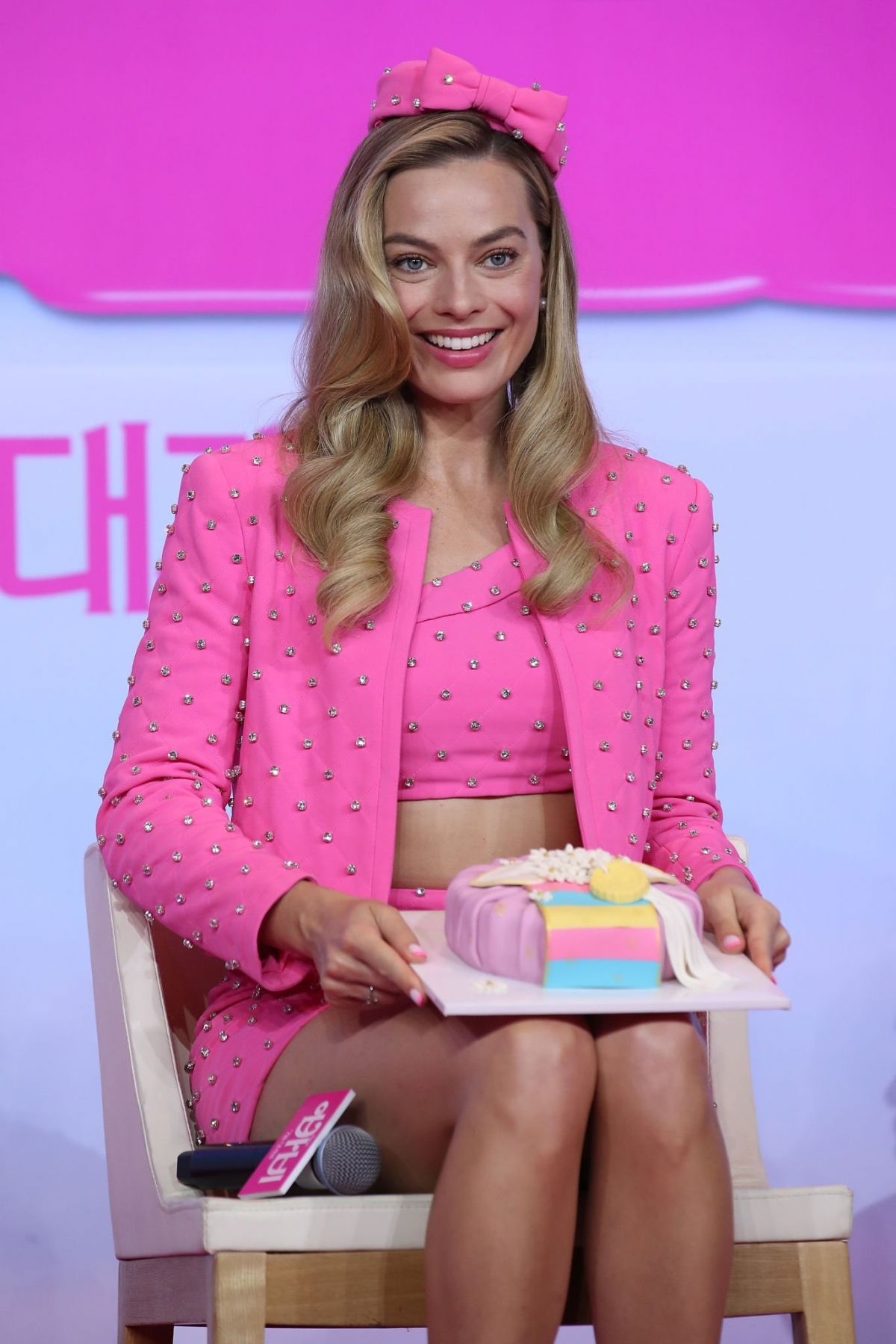 Margot Robbie has been captivating audiences during her recent tour in Seoul with a series of ensembles inspired by iconic Mattel Barbies from the past. One of her standout looks paid homage to the beloved 1964 "Sparkling Pink" Barbie, expertly styled by Andrew Mukamal, who shared a snapshot of the vintage doll on his Instagram page to confirm the inspiration.
During a press conference on Monday, Mukamal dressed Robbie in a custom-made Moschino skirt and matching waist-length blazer, both vibrant pink and adorned with dazzling stones. Underneath the blazer, she wore a crop top that perfectly complemented the bedazzled ensemble.

Getty Images
Completing the look, Robbie paired the skirt suit with open-toe heels from Manolo Blahnik, also in a striking shade of pink, and a pillbox hat that matched her outfit. She carried a heart-shaped purse in one hand, adding an extra touch of charm, and adorned herself with exquisite Tiffany & Co. jewelry for an added sparkle.
Robbie wore her long blonde hair down, styled in gentle curls. Her makeup was kept simple, with a pale pink lip, allowing her natural beauty to shine through despite the demanding world tour. The day before, she embraced the spirit of the 1984 "Day to Night" Barbie with two distinct Versace looks. During the day, Robbie sported a pink suit while accessorizing with an rhinestone-covered cell phone, reminiscent of the fashion of the 80s.

Getty Images
The highly anticipated film, featuring a star-studded cast including Ryan Gosling, Will Ferrell, Emma Mackey, Dua Lipa, Hari Nef, Simu Liu, and Ncuti Gatwa, is set to hit theaters on July 21. Robbie not only stars in the movie but also serves as a producer for this Greta Gerwig-penned flick. While Robbie revealed in a Vogue interview that she never owned a Barbie growing up in Australia, she has been involved in the project since 2018.

Read more: In Deadpool 3, Ryan Reynolds Has Reportedly Brought Channing Tatum's Scrapped Gambit to Life After Elizabeth Olsen
"I never had the desire to play with Barbie or dream of becoming Barbie, or anything like that," shared Robbie. "It might sound silly, but I didn't even consider playing Barbie until years into the development of this project."
Nevertheless, it is clear that Robbie was the perfect choice for the role all along.
Latest Photos & News of Margot Robbie