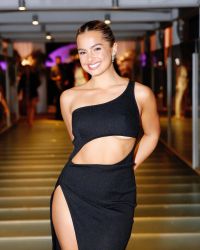 Source: instagram/addisonraee
Addison Rae
American media personality
Full Name
:
Addison Rae Easterling
Birth
:
October 6, 2000 (22 years) , Lafayette, Louisiana
Profession
:
American media personality
Interest
:
Dancing, fashion, beauty, acting, social media
Addison Rae is a social media influencer and a rising star in the entertainment industry. She was born on October 6, 2000, in Lafayette, Louisiana, USA. Addison grew up in a family of six and attended Calvary Baptist Academy in Shreveport, Louisiana.
Addison began dancing competitively at a young age and later became a member of the Shreveport Dance Academy. She continued to pursue her passion for dance and eventually joined the Louisiana State University's dance team. Addison is also a graduate of the LSU College of Business, where she majored in mass communication.
Career
Addison Rae rose to fame through her TikTok account, where she posts dance videos and lip-syncing content. Her account quickly gained a large following, and she became one of the most popular creators on the platform. She has since expanded her presence to other social media platforms, including Instagram and YouTube.
In addition to her social media career, Addison has also ventured into the entertainment industry. She made her acting debut in the film "He's All That" in 2021, and is set to star in the upcoming Netflix film "She's All That."
Personal Life
Addison Rae has been linked to fellow social media personality Bryce Hall. The couple has been on and off again, and their relationship has been the subject of much speculation in the media. Addison is also known to be close friends with other social media influencers, including Charli and Dixie D'Amelio.
Achievements
Addison Rae has achieved incredible success at a young age. She has amassed a following of over 80 million on TikTok and over 40 million on Instagram. She was named Forbes' highest-earning TikTok star in 2020, with an estimated income of $5 million.
In addition to her social media success, Addison has also made a name for herself in the fashion and beauty industry. She has partnered with brands such as American Eagle, L'Oréal, and Hollister, and launched her own cosmetics line, Item Beauty.
Show More