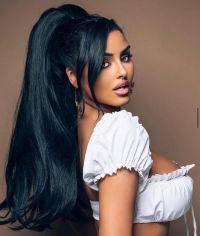 Source: instagram/abigailratchford
Birth
:
February 12, 1992 (31 years) , Scranton, Pennsylvania
Interest
:
Modeling, acting, fitness, and fashion
Abigail Ratchford is a popular American model, social media personality, and actress. She was born on February 12, 1992, in Scranton, Pennsylvania, USA. Abigail was raised in a large family, with six siblings. She attended Catholic grade school and then later attended a Catholic high school.
Career
Abigail began her career as a model in 2013 when she started uploading pictures on social media platforms. She quickly gained a large following and became popular for her curvaceous figure and glamorous photos. Abigail's popularity on social media led her to be featured in various magazines like Maxim, Esquire, and Sports Illustrated.
In addition to her modeling career, Abigail has also ventured into acting. She has appeared in various TV series and films like "Parks and Recreation," "The Kicker," and "The Rich Kids of Instagram." Abigail has also appeared in music videos for popular artists like DJ Khaled and Nicki Minaj.
Personal Life
Abigail Ratchford is known to be very private about her personal life. She has not shared much about her family or dating life with the public. However, she has been linked to various celebrities in the past, including Jamie Iovine, the son of music executive Jimmy Iovine.
Achievements
Abigail Ratchford has achieved a lot of success in her career as a model and social media personality. Her stunning photos and curvaceous figure have gained her a large following on social media, with over 9 million followers on Instagram alone. She has also been featured in various magazines and has worked with popular brands like Guess and Sports Illustrated.
In addition to her modeling career, Abigail has also made a name for herself as an actress. She has appeared in several TV series and films, and her talent and hard work have helped her gain more recognition in the entertainment industry.
Show More